"The 100 Best Education Reform Books of All Time," includes Presidents, Congress, and the Public Schools written by Jack Jennings. On July 10, 2020. the BookAuthority, which had developed this listing of the best books, displayed on its web site their titles and summaries of their contents. 
Published in 2015, Presidents, Congress, and the Public Schools commemorates the 50th anniversary of the signing of the landmark Elementary and Secondary Education Act, the foundation of national policy towards education. The book describes the history of federal aid to education and proposes a more effective alternative.
The organization which prepares and issues these listings, describes its mission in this way: "BookAuthority identifies and rates the best books in the world, based on public mentions, recommendations, ratings and sentiment." These listings can change over time depending on the books being considered.
The topics covered by these reviews range from marketing and finance to fitness, history, and personal development. Experts whose book recommendations are considered include many luminaries such as Mark Zuckerberg and Warren Buffet.
"I am honored that my book is so well-considered. It is my hope that Fatigued by School Reform, my new book released this year, will be as useful," said Jack Jennings.
---
Presidents, Congress, and the Public Schools: The Politics of Education Reform
by Jack Jennings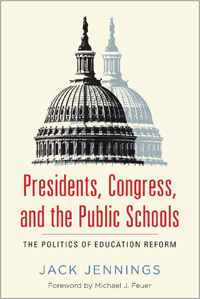 April 2015 marks the fiftieth anniversary of the Elementary and Secondary Education Act (ESEA), the landmark legislation that has provided the foundation of federal education policy in the United States. In "Presidents, Congress, and the Public Schools," longtime policy analyst Jack Jennings examines the evolution of federal education policy and outlines a bold and controversial vision for its future. Jennings brings an insider's knowledge to this account, offering a vivid analysis of federal efforts in the education arena and revealing some of the factors that shaped their enactment. His rich descriptions and lively anecdotes provide pointed lessons about the partisan climate that stymies much federal policy making today. After assessing the impacts of Title I and NCLB, and exploring the variety of ways that the federal government has intervened in education, Jennings sets forth an ambitious agenda for reframing education as a federal civil right and ensuring that every child has the opportunity to learn. (Source: ERIC, Institute of Education Sciences, U.S. Department of Education, 11-2018).
Jack Jennings's book, Presidents, Congress, and the Public Schools: The Politics of Education Reform, is available at:
and the publisher, Harvard Education Press.